Camping on Rail at Christow
Partly by design and partly through being constrained, the railway has preserved the flavour of the 1950s camp coach holiday, with all its simplicity and charm.
Much though the railway would like to expand and upgrade the accommodation available, it has not yet been able to do so. The existing site is too small and in any case it is impossible to bring coaches to Christow other than by rail. Thus, growth of the camping business is dependent upon the further development of the main railway project.
Even the most basic facilities offered so far have brought pleasure and people have returned again and again. To most, fetching water, using a khazi and strip-washing would be unimaginable privations, but to a minority that has so far discovered Toad, the challenges and inconveniences contributed towards making their stays different, memorable, therapeutic and fun.
The holiday trade caters admirably for the flat water of the mainstream that seeks standardised, accredited lodgings. What are now harder to find, possibly as a result of onerous regulation and greater affluence, are the non-conforming places which have a novel, quaint or rustic character.
Backpackers could once have relied upon the youth hostels for providing inexpensive, well dispersed accommodation, but these, it is claimed by the Y.H.A., have had to change in response to demand. Many have closed; Steps Bridge, a typical old-style hostel near here, closed in 2006.
Almost every grouping has a few offbeat people to whom Toad and Tadpole appeal, which is one of the reasons they have always been difficult to advertise, there being no Rough Guide to Rough Accommodation.
Two groups never to have been represented are railway enthusiasts and young people. While little effort has been made to attract the former, it was thought to begin with, because of the price and nature of the accommodation, that the majority of campers would be young backpacking types. After fruitlessly pursuing them, the railway has now accepted that its belief was mistaken. In the past, youngsters were forgiven for being smelly, spotty, recalcitrant and idle. Now, sadness heaped upon woe, they are boring as well and this is just unforgivable.
A group that has never been excluded is those who are limited in what they can afford or downright mean. It is hoped that Toad and Tadpole will continue to be affordable now that the charges have gone up, after being held for years.
Low Impact or "Slow" Tourism
Some establishments are making claim to be "greening" their operations on little more foundation than that they now provide recycled bogpaper. To the green gabblers, the smallest changes are always the most meaningful. And there are holidays being promoted as "green tourism" which involve combusting 40,000 gallons of kerosene to get you (and 400 others) to where you can tread softly and assimilate, without trampling on the culture and wildlife of an, as yet, unspoilt destination.
At its best, when campers come under their own steam, or by train and bus, Toad really is what some others only pretend to be.
How do you interest people in "slow" who only know fast? How do you attract people to simplicity who seem to yearn for complexity? How do you promote the individual, the original, the home grown, when so many think that only a brand name is any good? These are questions with which the railway will continue to wrestle.
Experience has shown that guests without a car are much more likely to explore the immediate area; to seek out its footpaths, vantage points and concealed delights. Campers who do not unload all their trappings from the car are more likely to meet the local folk and patronize their businesses.
A place becomes much bigger and can be seen in so much more detail when there are no means to flit over it at speed looking only for the brown signs proclaiming Zombieland or Grockleworld. This is not to say that slow campers find the rest of Devon—even parts of Cornwall—inaccessible, as the intrepid ones have proved.
Toad excels at stimulating old-fashioned recreation; that is, doing absolutely nothing but listening to background murmurs and attuning to a slower rhythm, while letting go of the normal routine.
Car owners try to relax but the wretched things, restless machines that they are, almost say to them: "Come on, let's go somewhere—anywhere but here."
Unsung and unrecognized, like much of what the railway does, you will not read about Toad and Tadpole in the colour supplements. (Well, apart from one mention in the Sunday Times.) Perhaps they are all the better for not being widely known and labelled; and more satisfying for those who have tried this real form of slow tourism.
TOAD
Perhaps the most unusual camping
accommodation in the Teign Valley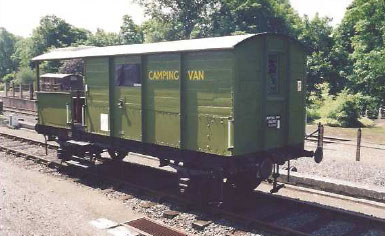 The E. & T.V.R. Camping Van was built at Swindon in 1949. Its purpose originally was to provide a place for a Guard to ride, where he could also use the handbrake to steady or secure his goods train. In later years, and until 1995, the van accompanied a track maintenance machine, whose operators needed a snug home from home.
Bought by the E. & T.V.R. in 1997, the van was moved to Christow and temporarily fitted out for camping; it was the intention to refit the vehicle thoroughly in due course. In fact, the first guests came in 1998 and the van was then in continual use until the end of October, 2007, when it was withdrawn. Renovated and improved for what was intended to be only a few more seasons, the van has in fact remained in service and still awaits a full overhaul.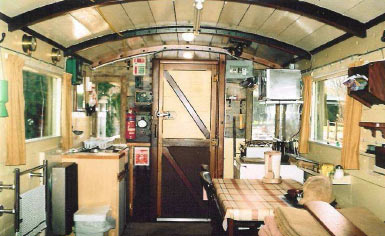 As it stands, the compartment is about 15 feet long by seven feet wide. It has two single beds with sprung mattresses, which can be brought together to make a double. There is a gas cooker with oven and grill. There are electric lights, a radiator, refrigerator, jug kettle, toaster, microwave oven, shaver socket and radio. A large sink and drainer is fitted but there is no running water in the van; a mains tap is situated not far from the line and full churns are provided. A table and chairs complete the furnishings. Tea, coffee and sugar are included, and there are all the necessary crockery and utensils. Blankets are supplied; bed linen and towels can be hired. A barbecue is available for use on the ground and there is an Acme wringer. The traditional bath may have been rendered obsolete by the shower, the first evidence of a pernicious standardization.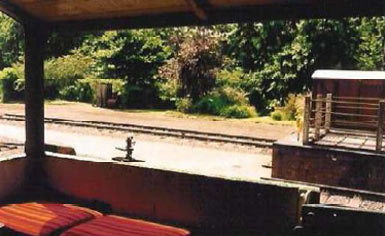 The compartment opens onto a semi-enclosed verandah—ideal for alfresco meals or taking a peg at sundown—from where there is a view of the wooded banks of the River Teign. A chemical toilet, regularly cleansed by railway staff, is found not far from the van, as are the temporary Station Master's house, where a shower can be taken, and a store where various requisites are kept.
Even were it fully repaired, the Camping Van would not be as comfortable or well appointed as a modern caravan or chalet. However, the van does provide quite adequate accommodation, to which must be added its novelty value and extremely pleasant location; campers have the freedom of the riverside, railway and wood—two acres in all. The area is quiet and unspoilt, yet is not far from Exeter, the county town, and the South Devon coast with its well known resorts. The Teign marks the boundary at Christow of the Dartmoor National Park and the station is within an Area of Great Landscape Value.
Back to top ↑
The Camping Van is perhaps best suited to those seeking quiet recreation, for whom the East Dartmoor district has much to offer; but Christow could just as well be a base for others looking for fun farther afield; and of course the van can be used simply as an unusual stopover for wayfarers or as a romantic hideaway. This is primarily a destination for interesting, adventurous people, perhaps a little offbeat.
Lots of information about the locality, its attractions and places of interest, is kept in the van.
A weekday-only, rail-substitute bus service (DevonBus 360) operates between Exeter and Christow, via Central and St. Thomas stations in Exeter and Christow Station (Teign House). DevonBus 361 operates between Newton Abbot and Christow, WO.
A holiday or break at Christow
is sure to prove
enjoyable, relaxing and very inexpensive.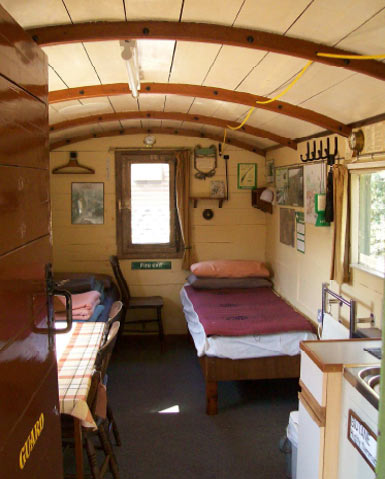 The name Thomas the Tank Engine is the property of some U.S. corporation, which presides over the bonanza made out of the late Revd. Awdry's delightful little tales. The firm may also claim title to Toad, one of Thomas's many pals, but the name is actually the old railway telegraph code word for a goods brake van. Parents who have been nagged into collecting plastic replicas of Thomas and his chums may have purchased Toad, which is in fact a good miniature of the twenty-ton real thing today accommodating merry campers at Christow.
TOAD hire charges
from October, 2010,
and until further notice.
Returnees
(Campers who have stayed before October, 2010)
£18 per night.
Newcomers
Campers who come on foot, by bicycle or public transport:-
£21 per night.
Supplement for each camper in excess of two:
£8
Campers who come by car:-
1st night ... ... ... £30
2nd night ... ... ... £28
3rd night ... ... ... £26
Subsequent nights ... ... £24
Supplement for each camper in excess of two:
£10
To confirm a booking, the hire charge must be paid in full not less than six weeks prior to the first night. For bookings made less than six weeks ahead, the full hire charge must be received within five working days. Short notice stays must be paid for immediately upon arrival.
In the event of a booking being cancelled, any refund of the payment shall be given only at the discretion of the railway.
Charges for hiring bed linen and towels may be had upon application.
DIRECTIONS to CHRISTOW STATION
From Exeter: Follow the B3212 in the direction of Moretonhampstead and turn left onto the B3193 at Farrants Cross. Go as far as the Teign House crossroads and follow the signs to Sheldon.
From Plymouth: Follow the B3193 from Chudleigh as far as the Teign House and from there the signs to Sheldon.
Back to top ↑
TADPOLE

for little people
Surely the most unusual camping
accommodation anywhere on earth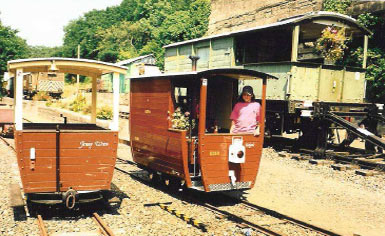 TADPOLE is a narrow gauge brake van, or Whelk, which ostensibly has been converted by the E. & T.V.R. into comfortable sleeping quarters for those of lesser stature. Tadpole is a virtual imitation of the standard gauge Toad.
The compartment has two bunks, each with two-foot wide foam rubber mattresses. The top one is 4 ft. 4 in. long and is clearly intended only for a very small person. The bottom bunk is 5 ft. 8¾ in., making it possible for a parent to accompany one small person. With the top bunk stowed, a single occupant has more space than may be suggested by the external appearance.
Tadpole has a battery-electric system which enables it to be disconnected from the ground supply. A heater is fitted and a listening device allows people in the big van to hear what is going on and know that all is well in the diminutive counterpart.
The little van is normally berthed in a siding adjacent to Toad, but may be moved farther away on the narrow gauge line while remaining within earshot. Larger occupants may prefer a berth on the river bank. The van has a fail-safe brake and is always chained to the rail after being moved.
A reading lamp, kettle and wind-up digital radio are provided when the van is occupied by a single larger soul. A bedtime story, "A Journey in Tadpole," will send small people away into the land of dreams, allowing their seniors to relax at the end of the day.
A Note About Behaviour
The work of building Tadpole took 1,369 man hours to complete and the vehicle is book valued at £12,488. The primary intention is to give little people an experience that is novel and fun, and one which ought to give flight to their imaginations. It is recognized that these people can sometimes—even usually—be clumsy and rough. Tadpole is not a museum piece; it is robustly made, but guests must show respect for railway property and be well behaved. Strong parental supervision is necessary. Normal wear and tear will be accepted; abuse will not. Please bear this in mind when considering whether your little people will be welcome at Christow.
Little campers are entitled to one free ride per stay in Jenny Wren, the manumotive observation saloon. They are then expected to cajole their seniors into paying for more rides at the published fare.
Great Britain's only Narrow Gauge Sleeping Car
TADPOLE is intended to expand the E. & T.V.R. camping accommodation, making it more comfortable for families and groups staying at Christow and giving children, especially, a quite unique experience.
The original plan was to build an enclosed version of Jenny Wren, the observation saloon built in 1995; the verandah was added partly for practical reasons and partly as a stylish touch. Tadpole thus bears a family resemblance to both Toad and Jenny Wren. The compartment of Tadpole is about the same size and shape as Jenny Wren; the compartment-verandah ratio is the same as Toad.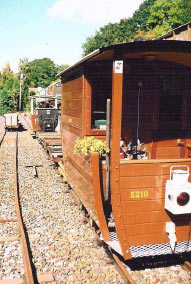 The very severe curves on the temporary track layout here—and any further expansion or variation of it—require that vehicles have a maximum wheelbase of two feet; any greater than this and the wheel flanges would be fighting the rails on curves. Also the wagon turntable has only a little greater capacity.
If an eight-foot long wagon were to have a central wheelbase, it would be impossible to couple to other vehicles because of "end throw"—the movement away from the line on curves. This design challenge has been met on Tadpole by having an offset wheelbase to allow coupling at one end only, and an underframe counter-weighted so that big people riding on the verandah will not cause too much of an imbalance.
By a concealed extension of the lower bunk into the verandah space, Tadpole is able to accommodate two children or one adult and a child. The top bunk folds up out of the way or down to form a seatback, or it can be suspended in the upper quadrant to allow baggage to be stowed. Tadpole is fully insulated and has an 800 watt fan heater.
The Corporation v. the Individual
"(S)He's a great Thomas fan," is often used to introduce a little one at Christow. Children have become hooked on the stories that the Revd. Wilbert Awdry wrote for his son, made authentic by advice from a top railway officer.
Where's the harm? Only that behind the smiley face, Thomas has been turned into another McBrand, whose merchandisers spew out ever more themed tat and whose licensors press the playtime railways to regulate and subject to conformation their regular special events, even demanding that staff who have no contact with children be cleared by the C.R.B. and that the Fat Controller reads set lines.
Most people are happy to allow the corporation to grow, not caring to what extent they are reduced to being milked by the machine. Even those who dislike big business and claim not to be in its thrall, actually subscribe to it unwittingly at every turn. Such monopolization is always to the detriment of the local, the homespun, the folkish and the vernacular, which, if they have not been crushed, exist in obscurity.
Parents who treat their little people to a stay in Tadpole turn their backs on the monolith to support the idea and the product of a small, rooted enterprise. The little ones then have the unique experience of discovering an old brake van, once the home of a guard called Elkins, who worked through the night on a little railway.
Back to top ↑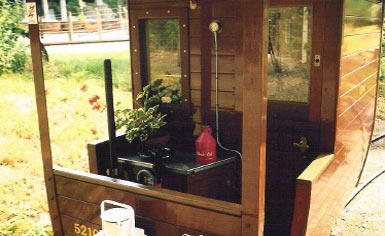 The underframe chosen for Tadpole came from one of the wagons recovered from E.C.C. Ball Clays' Kingsteignton mines after cessation of underground working in 1999. It is gathered that the wagons were not factory built, although the wheelsets are Hudson's, possibly off an earlier type which may have been supplied. Tadpole's underframe was so battered and beaten that it would have been much easier to fabricate a new one. Unlike the high tensile steel of Jenny Wren's frame, Tadpole's is of ordinary mild steel. Inaccurately made, it had to be straightened, stiffened and modified. Yet it is rather pleasing to know that its new application follows a long life during which, shift after shift, it was rope-hauled from out of the buried seams of the Bovey Basin carrying 15 cwt. of clay.
For the purist, according to the 1905 G.W.R. Telegraph Code Book, a TADPOLE was an open fish truck (TADPOLE A: open fish truck with guard's compartment). Actually, Tadpole as used here is just a pet name, like Jenny Wren, not a code word.
Tadpole was outshopped in 2003, made to look as if it were a hundred-year old van repaired and converted. In fact, such a vehicle never before existed.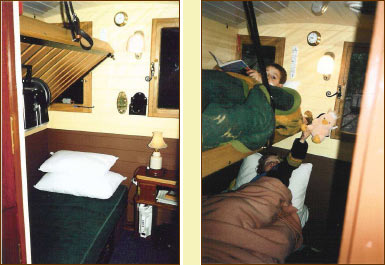 The TADPOLE hire charge from October, 2010, is £18 per night. There is no V.A.T. The charge is for the accommodation as a whole, not per little person. Big people pay the same as little people.
TADPOLE is normally used as an annexe of TOAD but can be hired separately by adults when TOAD is occupied and its facilities are not required. Preference will be given to joint bookings.
Because of the highly unusual nature of the accommodation, if it proves not to be satisfactory for any reason, a refund of the TADPOLE hire charge will be made.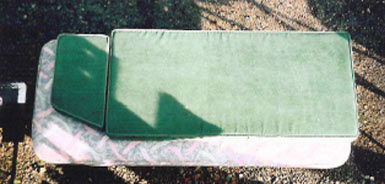 Not as small as is often imagined.
The mattresses making up the bottom bunk in Tadpole are here lying on one from Toad.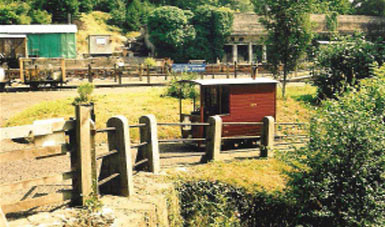 The Railway is Not a Free Amusement Park
(tempting though it may look)
The Railway is Not a Free Amusement Park (tempting though it may look) Guests of the E. & T.V.R. have the freedom of the riverside, railway and wood—a quite generous provision. The railway, however, for two principal reasons should not be seen as an inclusive playground.
First, railways, large or small, can be dangerous places, even when there is no movement. Rails and sleepers get very slippery. Wet or frosted sleepers have caused many an experienced railwayman to fall and crack his nut on the rail.
Railway equipment is usually heavy and often dirty. Everything at Christow is stored as safely as possible and rolling stock is secured. But, if interfered with, there is still the risk of crushed fingers or toes and of other serious injuries. Grease and oil, lurking everywhere, may be harmful to skin and difficult to remove from clothing.
The second reason is, the E. & T.V.R. operates as a business: its assets serve a purpose, have a value and must make a return in various ways.
For safety's sake, then, and to show respect, campers will be requested to cross the railway lines with care and not to touch any equipment.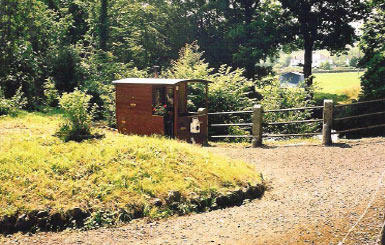 Back to top ↑